The global precision oncology market size was valued at USD 100.06 billion in 2022 and is projected to surpass around USD 258.35 billion by 2032, poised to grow at a CAGR of 9.95% over the forecast period from 2023 to 2032.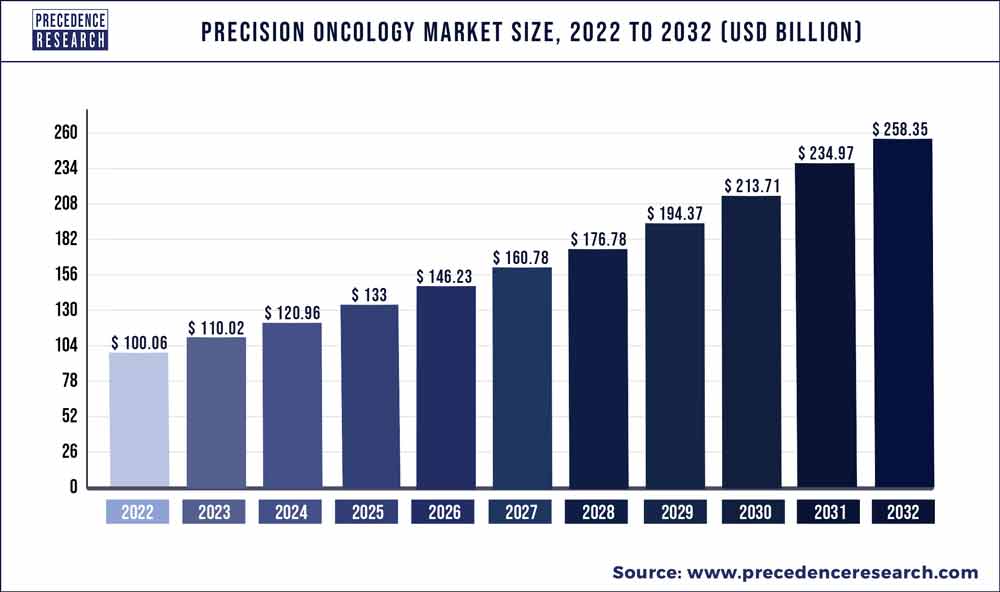 Access our Premium Real Time Data Intelligence Tool, Visit: Precedence Statistics
Key Takeaways:
North America has generated more than 43% of revenue share in 2022.
Asia-Pacific is expected to expand at the fastest CAGR between 2023 and 2032.
By Product, the therapeutics segment has contributed the largest revenue share of 72% in 2022.
By Cancer Type, the breast cancer segment has generated more than 42% of the revenue share in 2022.
Market Overview:
Precision oncology is the molecular profiling of tumors to find changes that can be targeted. In layman's words, it's the science of tailoring a patient's treatment to the molecular characteristics of their cancer by using genetic information from the patient. An exciting period in the fight against cancer is being ushered in by the emergence of precision oncology and the development of more individualized and targeted treatment approaches.
Precision oncology is a dynamic, interesting field of study that is increasingly finding its way into conventional oncology practice. Improving patient outcomes is precision oncology's ultimate goal. Targeted therapy, which focuses on a specific genetic biomarker, is made possible by precision oncology. By protecting healthy cells and reducing side effects, targeted medicines can prevent cancer cells carrying that genetic biomarker from proliferating and developing.
Growth Factors:
The rising prevalence of cancer across the globe is anticipated to augment the growth of the precision oncology market during the forecast period. Additionally, the development of advanced technologies like next-generation sequencing technology is also likely to fuel the growth of the market in the near future. The increasing investment in discovering new diagnostics along with growing efforts by numerous players to develop medicines via rapid cycles of innovation to bring advances to patients more swiftly is further expected to support the market growth in the years to come.
Personalization has advanced beyond therapy selection and into the area of drug research to enhance health thanks to governmental investment, biotechnology advancements, and digitization of health profiles. Diagnostic, digital, and imaging advancements as well as a plethora of analytics tools operating across numerous institutions and stakeholders are what are powering this transition. Academic research workers have typically been in charge of biomarker discovery. The extensive clinical engagement in biomarker research is particularly intriguing. The prevalence of this trend has increased as research discoveries are put to use in the clinic more quickly.
Report Scope of the Precision Oncology Market:
| | |
| --- | --- |
| Report Coverage | Details |
| Market Size in 2023 | USD 110.02 Billion |
| Market Size by 2032 | USD 258.35 Billion |
| Growth Rate from 2023 to 2032 | CAGR of 9.95% |
| Largest Market | North America |
| Fastest Growing Market | Asia Pacific |
| Base Year | 2022 |
| Forecast Period | 2023 to 2032 |
| Segments Covered | By Product, By Cancer Type, and By End-Use |
| Regions Covered | North America, Europe, Asia-Pacific, Latin America and Middle East & Africa |

Market Dynamics:
Driver:
Increasing demand for personalized medicine
The increasing demand for personalized medicine due to the benefits it offers is anticipated to augment the growth of the precision oncology market within the estimated timeframe. Patients are more engaged with their treatment plan as they receive more individualized information that enables them to make better health decisions. Other advantages of patient participation include better patient outcomes, more revenue for healthcare providers, and improved patient-therapist relationships. Patients with high levels of patient engagement and activation are more likely to stick with their physical therapy regimen. Patient activation is the degree to which a patient is knowledgeable, competent, and self-assured in controlling their own health.
Companies in the pharmaceutical and biotech industries have used various strategies to seize the benefits of personalized medicine. Others have chosen a "wait-and-watch" policy with targeted investments, while some have integrated these therapeutics into their business goal by integrating them into all processes. Since there is a great deal of ambiguity around many crucial issues, including the degree to which practitioners will adopt next-generation sequencing and other cutting-edge technology, diagnostics businesses have also investigated a variety of methods to personalized medicine. Additionally, in the present regulatory and reimbursement environment, diagnostics companies are still looking for ways to successfully capture value for their innovation. Thus, these factors are likely to contribute to the growth of the precision oncology market during the forecast period.
Restraints:
Limited availability of precision treatments linked to biomarkers
A prerequisite for biomarker testing is the availability of precision medicines related to biomarkers since most doctors won't order tests unless the results can be used to guide treatment choices. Before medications that have been approved by regulatory agencies are released and added to national or regional reimbursement lists, there are often significant delays. For instance, according to the EFPIA's Patients W.A.I.T. indicator Survey, the average wait time for patients to receive treatments across the European Economic Area and EU is 504 days; however this time can vary from 127 days in Germany to over 823 days in Poland. Additionally, for the prescription of precision medicines in several nations, public funding is insufficient.
The root causes of delayed patient access to medications in various economies are obstacles to the readiness of the health system, challenges with the reimbursement process, differences in and a lack of clarity regarding the reimbursement criteria, as well as evidence gaps and a misalignment on value and price between decision-makers for reimbursement and pharmaceutical companies. Addressing this challenge is one of the key priorities since it is likely to limit the growth of the market.
Opportunities:
Integration with other technologies
The integration of precision oncology with other technologies such as artificial intelligence, big data analytics, and digital health tools has the potential to improve patient outcomes and accelerate drug development. With technological breakthroughs, nanotechnology and artificial intelligence (AI) have been employed as tools to increase the precision of cancer treatment. The personalized precision medicine treatment for cancer patients has improved as a result of the significant advancement in obtaining patient data with better nanomaterial designs. Combining AI with nanotechnology has improved the accuracy of the rational design of diagnostic and treatment platforms. Definitive outcomes in nanomedicine which encompasses everything from biological and nanomaterial devices to nanoelectronic biosensors has also shown promise, with special praise going to the use of AI.
Reforms in AI and ML have led to the booming development of tools and algorithms that aid in the efficacy of treating cancer patients with customized precision medicine. The prediction obtained from the algorithms created by AI technologies to evaluate therapies is quite meticulous and gives a significant reduction in the likelihood of errors in terms of the prescribed treatment. Additionally, predictive analytics is essential for identifying people who are at a high risk of developing certain ailments and diseases, like cancer, and for creating individualized treatment strategies. Therefore, the rising implementation of various technologies is expected to create immense growth opportunities for the market in the years to come.
Impact of COVID-19:
The COVID-19 pandemic revealed the flaws and injustices in the world healthcare system, but it also had the potential to spark long-needed transformational reform. Not only did the covid-19 pandemic result in dramatic drops in cancer diagnoses, but it also markedly decreased the use of biomarker testing, which is frequently essential for choosing the best course of treatment for many common malignancies. Additionally, patients were naturally hesitant or unwilling to seek out regular general and specialized care during the pandemic, which frequently includes essential preventative cancer tests. Although there have long been significant obstacles preventing the advancement of precision medicine oncology, covid-19 has also brought to light the urgent need for accelerated development of cancer care technologies and greater international cooperation on shared health threats. As a result, some of these challenges will be easier to overcome in a post-covid world.
Segments Insight:
Product Insights:
On the basis of product, the therapeutics segment held largest revenue share of 72% in 2022. The development of various targeted drug therapy such as angiogenesis inhibitors & monoclonal antibodies and immunotherapies are expected to contribute to the segment growth of the precision oncology market during the forecast period. In order to kill a cancer cell, monoclonal antibodies may transfer drug- or drug-containing molecules into or onto the cancer cell. Examples include cetuximab (for some head, colon, lung, and neck cancers), trastuzumab (certain breast malignancies), and alemtuzumab (certain chronic leukaemias). Furthermore, extensive ongoing research in these types of therapies is also likely to support the segment growth of the precision oncology market during the forecast period. Additionally, rising awareness about these therapies amongst physicians as well as patients is further anticipated to augment the growth of the segment within the estimated timeframe.
Cancer Type Insights:
Based on the cancer type, the breast cancer segment held the largest market share of 42% in 2022. One of the first medical fields to use precision medicine is cancer care. There are various genetic and nongenetic testing for breast cancer that can aid in individualized treatment. Some genetic tests are specifically designed to assess hereditary risk, which means they examine the individual's genetic profile to assess their lifelong risk of acquiring breast cancer or other cancers. The growth of the segment is being supported by the increasing research and development of precision medicines for breast cancer along with rising strategic moves by various key players. For instance, in March 2022, in order to develop complete molecular profiling, Avera Health (Avera) and Theralink Technologies established a strategic alliance. As a result, Avera Health's physicians and patients will get access to data-driven insights that guide tailored cancer treatments. In addition, the introduction of advanced technologies for DNA sequencing is also expected to drive the segment growth of the market.
Regional Insights:
North America held the largest revenue share of 43% in 2022. US accounted for the largest share in the North America precision oncology market. This is owing to the increasing prevalence of cancer in the region. According to CDC, around 1,752,735 new cancer cases were reported in the US in 2019 and approximately 599,589 people died due to cancer. Also, approximately 439 new cancer cases were reported for every 100,000 people along with 146 people died of cancer. Thus, this is increasing the demand for precision oncology therapies in the region.
Furthermore, the presence of key competitors such as Thermo Fisher Scientific Inc., Illumina, Inc. and Invitae Corporation, among others along with rising research funding in the region have also contributed to the growth of the market. Additionally, the availability of developed healthcare infrastructure is likely to support the regional growth of the precision oncology market during the forecast period.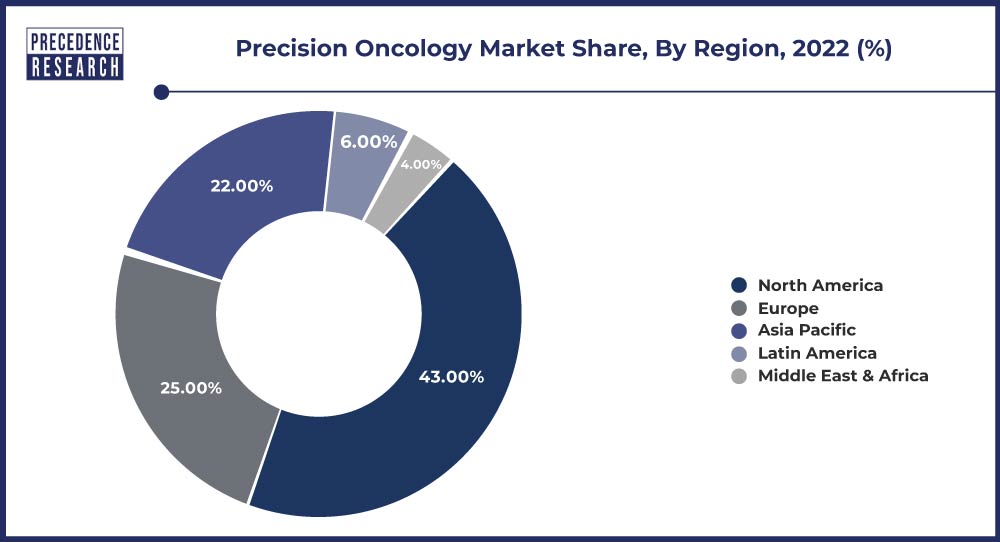 Asia-Pacific is expected to grow at the fastest CAGR during the forecast period. The increasing investment in the healthcare infrastructure along with research and development is anticipated to augment the regional growth of the precision oncology market during the forecast period. Furthermore, the growing aging population along with the increasing demand for personalized medicine for effective treatment is also likely to support the regional growth of the market in the years to come. Additionally, the advancement in gene mapping technologies and rising focus on the development of biotechnology is also expected to fuel the market growth in the region.
Recent Developments:
In April 2023, the Agilent SureSelect Cancer CGP Assay, created for somatic variant profiling for a variety of solid tumor types was launched by Agilent Technologies Inc. The design of the pan-cancer assay is based on an NGS panel of 679 genes that have been carefully selected from the world's top cancer datasets in collaboration with important clinical cancer researchers
In April 2023, with the use of innovative molecular profiling techniques that direct patient selection and participation, Flare Therapeutics and Caris Life Sciences have established a strategic partnership to push the precision oncology pipeline approaches across five of Flare's therapeutic programs into clinical trials.
In March 2023, two novel wholly-owned precision oncology development candidates, EXS73565 ('565), a MALT1 protease inhibitor, and EXS74539 ('539), an LSD1 inhibitor, were disclosed by Exscientia plc. These substances have undergone meticulous design in order to increase the potential for patient benefit and address intricate design problems that might reduce the likelihood of success for other substances in development. In the second half of 2023, the company hopes to offer an update on clinical development plans utilizing Exscientia's personalized medicine platform. IND-enabling investigations are now being conducted.
In June 2022, Turning Point Therapeutics, Inc. and The University of Texas MD Anderson Cancer Center announced a strategic collaboration for research and development towards the expansion of the evaluation of two investigational small molecules of Turning Point that are focused on precision medicine targets well known in oncology.
Key Market Players:
Thermo Fisher Scientific, Inc.
Invitae Corporation
Illumina, Inc.
Myriad Genetics, Inc.
AstraZeneca
Rain Oncology Inc.
Strata Oncology, Inc.
Repare Therapeutics
Relay Therapeutics
Exscientia
Exact Sciences Corporation
Segments Covered in the Report:
(Note*: We offer report based on sub segments as well. Kindly, let us know if you are interested)
By Product
By Cancer Type
Breast cancer
Colorectal cancer
Lung cancer
Blood Cancer
Prostate Cancer
Others
By End-Use
Pharmaceutical & Biotechnology Companies
Hospitals & Diagnostic Laboratories
Healthcare Data Companies
By Geography
North America
Europe
Asia-Pacific
Latin America
Middle East and Africa