The global red biotechnology market size surpassed USD 365.25 billion in 2022 and is projected to rise USD 618.64 billion by 2032, anticipated to grow at a strong CAGR of 5.41 percent during the projection period from 2023 to 2032.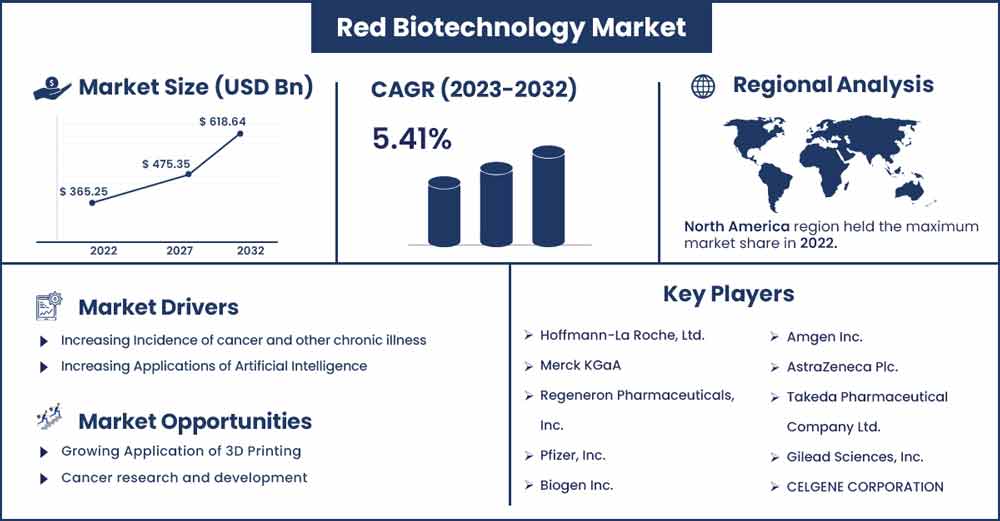 Market Overview:
Red biotechnology is observed to have a significant impact on the healthcare sector as it aims to revolutionize the treatment options available for multiple diseases including cancer and genetic disorders. Red-Biotechnology is another name for biopharmaceuticals. The realm of medicine is where this branch is most frequently used. Red biotechnology contributes to the welfare of people's quality of life. The uses of red biotechnology are numerous. Several applications may be seen in medicine and health science, gene therapy, genetic engineering, and other medically related sectors.
The global red biotechnology market offers advantages to multiple elements including genetic technology, gene therapy, regenerative medicine and other advanced techniques. The market for red biotechnology is observed to grow with the rising research and development activities in the molecular biology field and demand for novel drug and therapeutics development.
Regional Snapshot:
North America dominated the global red biotechnology market in 2022, and this region is anticipated to exhibit a similar trend during the projection period. Considerable market size is expected throughout the forecast period due to the development of healthcare infrastructure, rising healthcare spending, patient awareness, and the availability of effective treatments for chronic and uncommon illnesses. The approval of several gene treatments drives the market in North America. Over 900 applications in clinical studies have been submitted to the FDA for scrutinscrutinine treatment. In addition, one innovative genetically altered cell treatment was authorized in 2023, according to the American Society of Gene & Cell Treatment (ASGCT) report. Carvykti, a CAR-T cell treatment created by Legend Biotech and Johnson & Johnson, was authorized for multiple myeloma in the United States. The introduction of novel products in the United States boosted the red biotechnology market in North America.
Report Highlights:
By product, the human vaccines segment holds a dominant position in the market. This is due to the importance of vaccination safety, which has significantly grown over the past 20 years. Since vaccinations with recognized safety issues have been taken off the market, there have been very few documented adverse reactions from their usage.
By application, due to the emergence of new market participants and the accessibility of innovative services and goods, the application segment for gene therapy will have the fastest growth rate. Additionally, producers are working on R&D projects to introduce new items to the market.
By end-use, due to a surge of innovation, including novel treatment modalities, improved analytics, smart equipment, and digital connection, the biopharmaceutical segment is predicted to see exceptional growth throughout the projection period.
Red Biotechnology Market Report Scope:
| | |
| --- | --- |
| Report Coverage | Details |
| Market Revenue in 2023 | USD 385.01 Billion |
| Projected Forecast Revenue in 2032 | USD 618.64 Billion |
| Growth Rate from 2023 to 2032 | CAGR of 5.41% |
| Largest Market | North America |
| Base Year | 2022 |
| Forecast Period | 2023 To 2032 |
| Regions Covered | North America, Europe, Asia-Pacific, Latin America, and Middle East & Africa |

Market Dynamics:
Driver:
Drug development
Red biotechnology is often employed to prevent, detect, and treat several ailments. Antibiotics are used to treat infections caused by bacteria. The efficacy of medicine may be raised by utilizing red biotechnology-based procedures and approaches, which can also be used to find novel medications for more effective illness and infection therapy. The red biotechnology method is employed in several technologies for the manufacturing of combination vaccines, including DPT, which is mixed with vaccines for hepatitis A and B and polio. Additionally, it is utilized in various sectors, including tissue engineering, cancer research, veterinary science, and poultry farming.
Restraint:
Lack of awareness about rare diseases
Due to several issues, such as a lack of knowledge among primary care medical professionals and a shortage of facilities for diagnosis and screening, early detection is the key problem in the case of uncommon diseases. Additionally, a small patient base makes it challenging to create a new treatment, and the difficulty increases when uncommon, chronic diseases and long-term stability are needed. This aspect inhibits the expansion of the red biotechnology market by limiting the application of red biotechnology; which is observed to act as a restraint for the market.
Opportunity:
Cancer research and development
Red biotechnology is crucial to the study and therapy of cancer. Early cancer detection, differential diagnosis of cancer, cancer progression control, and effective cancer therapy all need aspects of biotechnology field. Various cancer research programs employ a wide range of biotechnology-based methodologies for effective and faster outcomes. The use of red biotechnology in cancer research and development will lead to the growth of the red biotechnology market. Red biotechnology is capable of developing targeted therapies for cancer treatment. Moreover, the capabilities associated with red biotechnology of offering biomarkers, personalized medicine and novel therapeutics make it an ideal platform for cancer research activities. Thus, the rising cancer research activities are observed to create significant opportunities for the market.
Challenge:
The cost associated with the research activities
Developing new drugs and therapies in the red biotechnology field requires a substantial investment in research and development activities. The costs associated with discovery, preclinical testing, clinical trials and manufacturing can be astronomical. The high costs of research and development activities pos challenges for smaller companies and startups that may struggle to secure funding for their projects. Thus, the cost associated with the research activities creates an obstacle for the growth of the market.
Recent Developments:
In January 2023, to develop, maintain, and provide a comprehensive Emergency Care Network nationwide, StanPlus, a response platform for medical emergencies based in Hyderabad, launched four new business verticals. The business will establish new ventures under the name RED. Health. The company's dedication to enhancing India's Emergency Medical System (EMS) via Rapid Emergency Dispatch is at the core of the name change.
In January 2023, RQ Bio, a UK biotech company, collaborated with AstraZeneca as it works to maintain its Covid-19 antibody current with the newest variations to protect immunocompromised patients. The Anglo-Swedish pharmaceutical business is testing a second generation of the Evusheld antibody because the first generation appears ineffective in preventing infection from the XBB 1.5 strain. Evusheld 2.0 combines one of the initial antibodies with a brand-new antibody created by RQ Bio that was purchased as part of a deal for around $157 million. The antibodies are utilized to safeguard individuals who do not react to vaccinations, such as those with specific types of cancer.
In January 2023, the University of Virginia will establish a biotechnology institution, placing UVA at the forefront of cutting-edge medical research, including cellular and gene treatments, redefining how illnesses are treated and cured. The couple who will be the new institute's namesakes donated $100 million, contributing significantly to its creation. The Paul and Diane Manning Institute of Biotechnology at UVA will progress this research to benefit local and international patients. The ambitious goals of UVA will not only revolutionize how healthcare is provided throughout the state but will also greatly benefit the whole Commonwealth and the economy of Central Virginia by creating hundreds of employments directly and perhaps thousands indirectly.
Major Key Players:
Hoffmann-La Roche, Ltd.
Merck KGaA
Regeneron Pharmaceuticals, Inc.
Pfizer, Inc.
Biogen Inc.
Amgen Inc.
AstraZeneca Plc.
Takeda Pharmaceutical Company Ltd.
Gilead Sciences, Inc.
CELGENE CORPORATION
Market Segmentation:
By Product Type
Monoclonal Antibodies
Polyclonal Antibodies
Recombinant
Proteins Vaccines
Cell-Based Immunotherapy Products
Gene Therapy Products
Cell Therapy Products
Tissue-Engineered Products
Stem Cells
Cell Culture
Viral Vector
Enzymes
Kits and Reagents
Animal models
Molecular diagnostics
Others
By Application
Pharmacogenomics
Biopharmaceutical Production
Gene Therapy
Genetic Testing
By End-user
Research Institutes
CMOs & CROs
Biopharmaceutical Industries
Others
Buy this Research Report@ https://www.precedenceresearch.com/checkout/1010
You can place an order or ask any questions, please feel free to contact at sales@precedenceresearch.com | +1 9197 992 333