The global synthetic biosensor market size surpassed USD 25.8 billion in 2022 and it is expected to rake around USD 47.6 billion by 2030, poised to grow at a CAGR of 7.96% during the forecast period 2022 to 2030.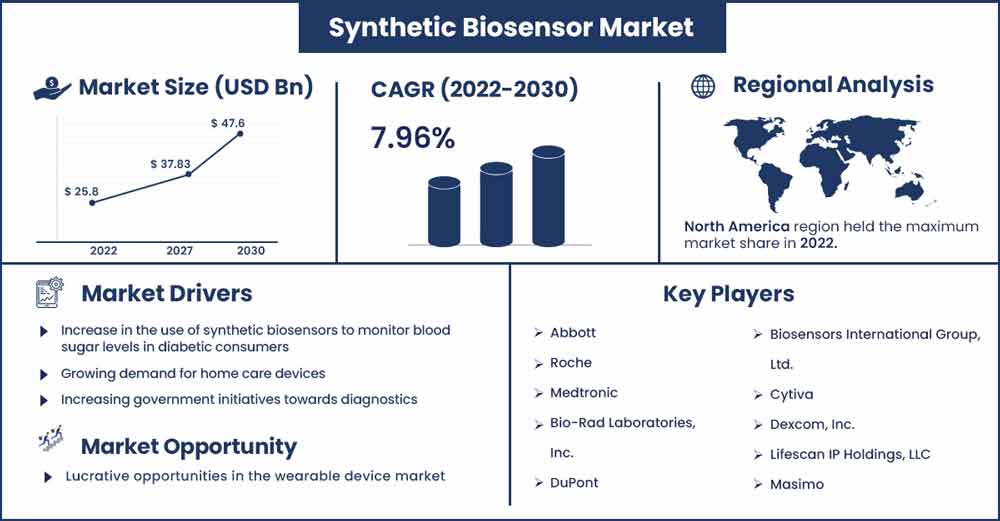 A synthetic biosensor is a tool that detects and transmits knowledge about a lifecycle. It is used by an observer or a device to calculate and convert a biological response into an electrical signal and quickly interpret it. These instruments have a wide range of uses, from medicine, food and beverage, and healthcare, to agriculture and other industries. For various monitoring devices, synthetic biosensors are used for cameras, pressure monitors, gyroscopes, accelerometers, optical and imaging monitors, microfluidic, temperature sensors and flowmeters. These devices include devices capable of calculating wind, temperature, speed, light, barometric pressure, acceleration, gas, physiological pressure, chemical magnetic field, vibration and humidity.
The adoption of artificial intelligence, IoT, and cloud computing technologies in healthcare, coupled with the continued advancement of the optical quantum business, is driving market growth. In addition, the penetration of electronic medical records (EMR) and technical advancements in the fields of bioelectronics and microfabrication are expected to drive the global synthetic biosensors market in the near future. Nanotechnology plays an important role in driving the growth of synthetic biosensor demand as it shortens and improves dynamic chip design processes.
Key players in the synthetic biosensors market are expanding their product portfolio, owing to rapid advancements in synthetic or systems biology. There are increasing applications of synthetic biosensors in various end-use industries such as disease diagnosis, drug development, food industry, environmental monitoring, and others. In addition, synthetic biosensors are increasingly being used to detect organic contaminants in the environment, such as the detection of tumorigenic and carcinogenic ones in air, water, food, and soil. The growing applications of synthetic biosensors in the food industry for food quality inspection are driving the synthetic biosensors market in terms of value sales.
The growing applications of synthetic biosensors owing to developments and advancements in fields such as protein engineering, molecular biology and nanotechnology are expected to drive the growth of the global market. Increasing awareness regarding the benefits associated with the use of synthetic biosensors in diagnostic procedures is driving the growth of the global market. Biosensors are also widely used to monitor blood sugar levels in people with diabetes. Moreover, many countries are working to improve new diagnostic technologies to mark their presence in the global market which is also driving the market growth.
Synthetic Biosensor Market Report Scope:
| | |
| --- | --- |
| Report Coverage | Details |
| Market Revenue in 2023 | USD 27.85 Billion |
| Projected Forecast Revenue in 2030 | USD 47.6 Billion |
| Growth Rate from 2022 to 2030 | CAGR of 7.96% |
| Largest Market | North America |
| Base Year | 2022 |
| Forecast Period | 2022 To 2030 |
| Regions Covered | North America, Europe, Asia-Pacific, Latin America, and Middle East & Africa |

Report Highlights:
On the basis of type, the embedded devices segment holds the largest market share in the global synthetic biosensors market.
On the basis of product, the wearable segment holds the largest market share in the global market is anticipated to retain its dominance during the forecast period.
On the basis of application, the home diagnostics segment holds the largest market share in the global market is anticipated to retain its dominance during the forecast period.
On the basis of technology, the electrochemical segment holds the largest market share in the global market is anticipated to retain its dominance during the forecast period.
By region, North America holds the largest market share in the global synthetic biosensors market. However, Asia-Pacific is expected to be the fastest-growing market for synthetic biosensors.
Regional Snapshot:
North America accounted for the largest market share in the year 2022 in the synthetic biosensors industry and is expected to restrain dominant in the global market during the forecast period in terms of value sales. Technological developments and advancements in diagnostic devices in North America are fueling the synthetic biosensors market growth. However, Asia Pacific is predicted to witness high growth rate during the synthetic biosensors market forecast period. This is attributed to the rising application of synthetic biosensors in emerging economies such as China, India, South Korea and others. The market growth in the Asia-pacific region is largely driven by continuous investment in R&D by the key players, coupled with digitization in healthcare, food & beverages and other industries.
Market Dynamics:
Drivers:
The advent of nanotechnology-based synthetic biosensors to augment market growth
Nanotechnology-based synthetic biosensors are made of nanomaterials and range in size from 1 to 100 nm. These synthetic biosensors play an important role in the discovery of the mechanism of biosensors technology. The integration of nanomaterial devices with electrical systems has led to the development of nanoelectromechanical systems. Several nanomaterials have been explored for their electronic and mechanical properties to be used to enhance biological signals and transmission mechanisms, which involve the conversion of one form of energy into another. Some of these widely used materials include nanotubes, nanowires, nanorods, nanoparticles, and thin films made of crystalline materials. These sensors can be used in applications ranging from ammeters for enzymatic glucose detection to the use of quantum dots as fluorescent agents for bonding and nanomaterial detection and others.
Restrain:
Slow commercialization and apprehension in adopting novel treatment methods
Biosensor technology had a low commercialization rate in recent years due to high synthetic biosensors prices and demand from the healthcare industry alone. Commercialization of synthetic biosensors for non-medical applications, such as military, biodefense, fermentation control and environmental monitoring is a challenge for players in the industry due to limited R&D and unsatisfactory results. The synthetic biosensors market also tends to be slow to commercialize, mainly due to price sensitivity; end-user acceptance; and concerns related to product quality, authenticity, and reliability. Thus, the aforementioned facts is likely to hamper the growth of the overall market in terms of value sales during the forecast period.
Opportunities:
Lucrative opportunities in the wearable device market
The demand for wearable synthetic biosensors are rapidly increasing for continuous monitoring of vital signs in patients, premature infants, children, athletes or fitness enthusiasts, and individuals. Wearable and connected synthetic biosensors enable remote monitoring to enable patients to avoid hospitalization or earlier discharge. By enabling telemedicine (monitoring and transmitting physiological data from outside the hospital), wearable synthetic biosensors can ease the burden on medical staff and free up hospital space to be faster care. Smart textiles with sensors in the fabric could provide a simpler and more convenient system for monitoring vital signs. Biosensor tattoos or patches, which utilize standard printed electronics, could better allow doctors to collect data about patients over long periods of time. Such sensors adjust to a self-quantitative tendency to monitor its biological data to optimize its health. Additionally, disposable patches can help analyze key biomarkers, such as sodium, potassium, and glucose, in sweat or other substances. Therefore, the aforementioned facts is likely to offer immense opportunities for the growth of the market.
Challenges:
Long certification and approval cycles due to government regulations
Despite the strong demand for biosensors for medical applications, the FDA's multilayered regulations and laboratory requirements under the clinical laboratory Improvement Amendments of 1988 (CLIA) have created significant regulatory impediments for producers (for the premarket approval of POC testing kits). Manufacturers must submit performance data to the FDA for approval of any new POC device in the United States. This information should show that healthcare professionals and patients can use devices and achieve findings similar to those obtained from clinical laboratory tests.
Major Key Players:
Abbott
Roche
Medtronic
Bio-Rad Laboratories, Inc.
DuPont
Biosensors International Group, Ltd.
Cytiva
Dexcom, Inc.
Lifescan IP Holdings, LLC
Masimo
Nova Biomedical
Universal biosensors
Market Segmentation:
By Type
Sensor Patch
Embedded Device
By Product
Wearable Synthetic biosensors
Non-wearable Synthetic biosensors
By Technology
Electrochemical Synthetic biosensors
Optical Synthetic biosensors
Piezoelectric Synthetic biosensors
Thermal Synthetic biosensors
Nanomechanical Synthetic biosensors
By Application
POC
Home Diagnostics
Research Labs
Environmental Monitoring
Food & Beverages
Biodefense
Buy this Research Report@ https://www.precedenceresearch.com/checkout/2357
You can place an order or ask any questions, please feel free to contact at sales@precedenceresearch.com | +1 9197 992 333