The global sterile medical packaging market size was reached at USD 40.12 billion in 2022 and it is expected to hit around USD 95.89 billion by 2032, poised to grow at a CAGR of 9.10% between 2023 and 2032.
Access our Premium Real Time Data Intelligence Tool, Visit: Precedence Statistics
The sterile packaging market refers to the production and sale of packaging materials and containers that are designed to maintain a sterile environment for medical devices, pharmaceuticals, and other sensitive products. Sterile packaging is essential for ensuring that these products remain free of contaminants that could compromise their safety or effectiveness.
The market for sterile packaging has been growing in recent years due to the increasing demand for safe and effective medical treatments, as well as the growing prevalence of chronic diseases that require ongoing treatment. The rise of e-commerce has also contributed to the growth of the sterile packaging market, as more consumers are purchasing medical supplies and pharmaceuticals online and expecting them to be delivered in a sterile condition.
Some of the key materials used in sterile packaging include plastics, such as polyethylene, polypropylene, and polystyrene, as well as metals such as aluminum and stainless steel. These materials are often coated or treated with special coatings or films to help maintain sterility.
The global sterile packaging market is expected to continue to grow in the coming years, driven by factors such as increasing demand for medical devices and pharmaceuticals, as well as ongoing innovation in packaging materials and technologies. However, the market is also subject to various challenges, including increasing competition and regulatory requirements that must be met to ensure the safety and effectiveness of sterile packaging products.
Report Scope of the Sterile Medical Packaging Market
| | |
| --- | --- |
| Report Coverage | Details |
| Market Size in 2023 | USD 43.77 Billion |
| Market Size by 2032 | USD 95.89 Billion |
| Growth Rate from 2023 to 2032 | CAGR of 9.10% |
| Largest Market | North America |
| Second Largest Market | Europe |
| Base Year | 2022 |
| Forecast Period | 2023 to 2032 |
| Segments Covered | By Packaging Type, By Material, By Sterilization Method and By Application |
| Regions Covered | North America, Europe, Asia-Pacific, Latin America and Middle East & Africa |

Growth Factors:
There are following factors which are expected to boost the sterile packaging market growth:-
Increasing demand for safe and effective medical treatments
Growing prevalence of chronic diseases
Rise of e-commerce
Technological advancements in packaging materials
Key Market Drivers:
Increasing demand for safe and effective medical treatments: The global population is growing and aging, leading to an increase in demand for medical treatments and healthcare products. Sterile packaging is essential for ensuring the safety and effectiveness of medical devices, pharmaceuticals, and other healthcare products.
Growing prevalence of chronic diseases: Chronic diseases such as diabetes, cancer, and cardiovascular diseases are becoming more prevalent around the world, leading to an increased demand for ongoing treatment and management. This trend is driving the demand for sterile packaging, as many of these treatments require sterile environments.
Rise of e-commerce: The growth of e-commerce is driving demand for sterile packaging, as more consumers are purchasing medical supplies and pharmaceuticals online and expecting them to be delivered in a sterile condition.
Technological advancements in packaging materials: Advances in packaging materials and technologies are allowing for the development of more effective and efficient sterile packaging solutions, further driving the growth of the market.
Key Market Challenges:
There are the following factors that can restrain the market from growing
Stringent regulatory requirements
Environmental concerns
Stringent regulatory requirements: While regulatory requirements for sterile packaging are driving demand for high-quality, reliable sterile packaging products, they also present a challenge for manufacturers. Compliance with these requirements can be time-consuming and expensive, and failure to comply can result in regulatory penalties and reputational damage.
Environmental concerns: Many sterile packaging products are made from plastics, which can be difficult to recycle and can contribute to environmental pollution. As environmental concerns grow, manufacturers may face pressure to develop more sustainable and environmentally friendly packaging solutions.
Key Market Opportunities:
The sterile packaging market presents several opportunities for growth and expansion in the coming years. Here are some of the key opportunities:
Sustainability
Growing demand for biologics
Increasing adoption of single-use packaging
Sustainability: As environmental concerns grow, there is increasing demand for sustainable and environmentally friendly packaging solutions. Manufacturers that can develop innovative and sustainable sterile packaging products may be able to differentiate themselves in the market and capture new business.
Growing demand for biologics: Biologics is a growing area of the pharmaceutical industry, and they require specialized sterile packaging to maintain their efficacy. As the demand for biologics continues to grow, so too will the demand for sterile packaging.
Increasing adoption of single-use packaging: Single-use sterile packaging is becoming more popular in healthcare settings, as it can reduce the risk of infection and contamination. This trend is expected to drive demand for sterile packaging products.
Segments Insight:
Packaging Type Insights:
The most widely used sterile medical packaging among these is thermoformed trays. They feature multiple compartments to support the medical equipment and are often made of hard material. Sutures, implants, testing kits, and delicate surgical supplies are packed in these trays. In 2022, the pre-fillable syringes sector had the second-largest market share. These transparent, break-resistant, ready-to-fill syringes are lightweight.
These syringes are typically made of plastic since it has a glass-like look. Syringes' high moisture barrier capability makes it possible to store medications for a long time. It is therefore appropriate for multiple-dose injectable therapy for a variety of disorders.
Throughout the projection period, the demand for pre-fillable syringes would increase due to the increased use of multiple-dose injection therapies. Moreover, blister packs minimize the need for extra cartons and lower the cost of packaging.
As a result, the blister & clamshells industry will benefit from their growing preference. The medical sector uses a variety of bags and pouches, including bags with adhesive closures, bags for sterilization, bags for pharmacies, bags for respiratory setup, and ziplock and reclosable bags.
Material Insights:
The largest and fastest-growing raw material utilised to create sterile medical packaging is plastic. Polyvinyl chloride (PVC), polyethylene terephthalate (PET), high impact polystyrene (HIPS), high-density polyethylene, polypropylene (PP), and polycarbonate (PC) are among the materials that are generally preferred for medical packaging (HDPE). These plastics are a great option for medical packaging since they are inexpensive, easy to form, and have protective qualities. They shield the medical equipment, devices, and pharmaceuticals inside from contamination and damage.
Thermoformed blister trays and packs, pouches, vials, bottles, closures, overwraps, and bags are all made of plastic. Because to its chemical and moisture resistance, glass is the second-most common material used in sterile medical packaging. It is a favoured material for making syringes, bottles, test tubes, vials, and other kinds of medical packaging, including ampoules, vials, and bottles.
Additionally, packaging for medical equipment makes extensive use of metals including lead, tin, and aluminum. Due to its numerous advantageous qualities, including high stiffness, durability, coding ability, and reliability, the paper and paperboard market is expected to expand rapidly.
Sterilization Method Insights:
Based on sterilization method the sterile packaging market is further segmented into radiation sterilization, chemical sterilization, and high temperature sterilization. Ethylene oxide (ETO), hydrogen peroxide, and others make up the chemical sterilisation section. Related sub-segments include gamma radiation, e-beam radiation, and others within the radiation sterilisation segment.
The steam autoclave and dry heat are two more divisions of the high temperature/pressure sterilising segment. The market's fastest-growing approach is chemical sterilisation, where the most potent chemical utilised for sterilisation is ethylene oxide. It is an alkylating chemical that interferes with microorganisms' cellular metabolism and reproductive activities. Also, it works effectively with a variety of substances that deteriorate when exposed to radiation or heated sterilisation, such as plastics and glass.
Gamma radiation makes up the greatest sub-segment of the second-largest method of sterilisation, which uses radiation. Gamma rays destroy bacterial DNA and prevent bacterial division to eliminate the contaminating germs during the sterilising procedure. Gamma radiation is now a safe and practical method for the healthcare system as a result.
The steam autoclave is the most efficient technique for high temperature/pressure sterilisation. Using saturated steam at 121–132 °C for disinfection, it is an extremely efficient technique. It is primarily employed for medical equipment like surgical instruments. Thus, the potential expansion of the market will be boosted by the rising need for the sterilisation of packaging items.
Application Insights:
In 2022, the pharmaceutical and biological industry enjoyed a hefty market share for sterile medical packaging. The prevalence of infectious and non-infectious diseases has increased, as have the number of sufferers. The demand for medications and blood tests has risen as a result of this. These favourable features are anticipated to increase demand for this type of packaging in pharmaceutical and biological applications, which will fuel market expansion.
A market category that is expanding quickly is surgical and medical instrumentation. They consist of gloves, drapes, gowns, procedure kits, urine and drainage bags, and catheters. These tools are primarily utilised during surgeries and surgical procedures. So, as the necessity for surgeries and procedures grows, so will the demand for surgical and medical equipment, which will result in market growth.
Furthermore, materials like glass and plastic are generally used in in-vitro diagnostic products. The medical implants segment is expected to grow at a significant rate during the forecast period. The demand for medical implants is related with their biocompatibility, bio functionality, corrosion resistance, availability, bio-adhesion, and processability properties.
Regional Insights:
On the basis of geography, North America dominates the market owing to the strong healthcare industry, stringent regulatory environment, and advanced technology. North America has a strong healthcare industry, driven by advanced healthcare infrastructure, high levels of healthcare spending, and a large base of pharmaceutical and medical device manufacturers. This has resulted in a significant demand for sterile packaging products in the region.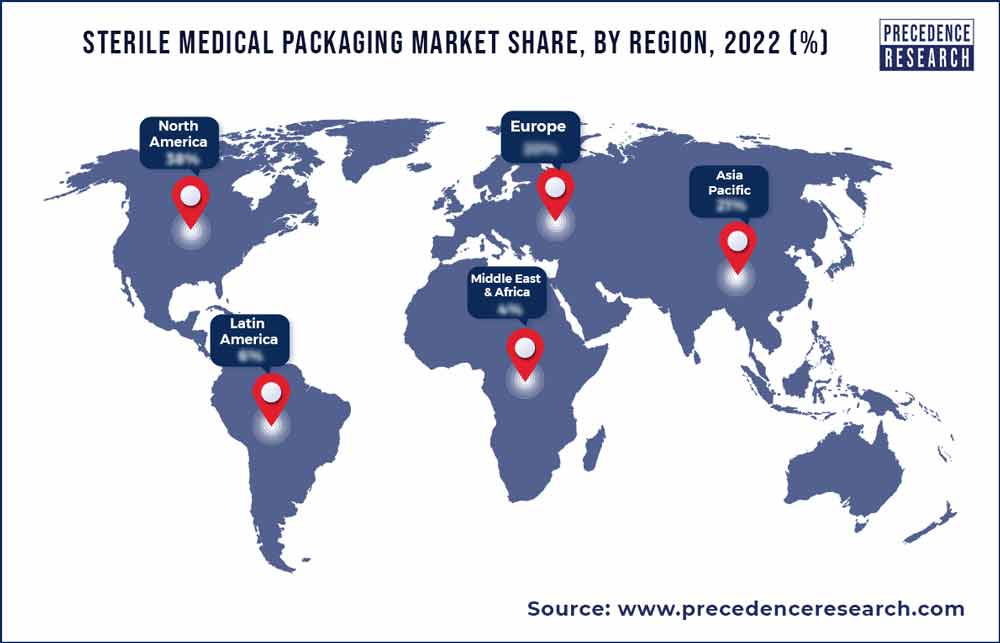 The U.S. accounted for the majority of the share in the region. The growth in the region is owing to the rise in the pharmaceutical industry and increase in the consumer healthcare spending. The surge in the number of patients, due to the rapidly spreading of contagious diseases like coronavirus, has fuel the growth of the pharmaceutical industry. These factors are expected to surge the demand for such packaging in this region. Europe accounts for the second-largest share of the market.
Asia Pacific is expected to witness the highest growth during the forecast period owing to the rising healthcare industry, large and diverse market, and increasing focus on safety and quality. The healthcare industry in Asia-Pacific is growing rapidly due to several factors, including rising disposable incomes, increasing population, and improving healthcare infrastructure. This growth is expected to drive demand for sterile packaging products in the region.
It is home to several large and diverse markets, including China, India, and Japan. These markets offer significant growth opportunities for sterile packaging manufacturers, particularly in the pharmaceutical and medical device industries.
Key Market Players:
Amcor Plc
Placon
DuPont
Steripack Ltd.
Wipak Group
Nelipak Healthcare
Tekni-Plex
Sonoco
BillerudKorsnäs AB
ProAmpac
West Pharmaceutical Services, Inc.
Riverside Medical Packaging Company Ltd
Oliver Healthcare Packaging
GS Medical Packaging
Orchid
Technipaq Inc.
Segments Covered in the Report:
(Note*: We offer report based on sub segments as well. Kindly, let us know if you are interested)
By Packaging Type
Electrical & Electronics
Transportation
Medical
Chemical
Others
By Material
Plastics
Glass
Metal
Paper & Paperboard
Others
By Sterilization Method
Chemical Sterilization

Ethylene Oxide (ETO)
Hydrogen Peroxide
Others

Radiation Sterilization

Gamma Radiation
E-beam
Others

High Temperature/Pressure Sterilization
By Application
Pharmaceutical & Biological
Surgical & Medical Instruments
In Vitro Diagnostic Products
Medical Implants
Others
By Geography
North America
Europe
Asia-Pacific
Latin America
The Middle East and Africa